Return to Exam List
Follow us on Facebook, Twitter and Instagram.






Your doctor may order an MRI of your hips if you are having pain, weakness or lack of mobility of your hips. MRI is able to demonstrate the health of the bones, fractures, tumors, damage due to poor blood circulation (avascular necrosis or osteonecrosis) and damage to ligaments and cartilage. In order to obtain the highest resolution possible, we can only scan one hip at a time. The average hip exam takes 30 minutes.
In some cases your physician may request that the MRI takes place after we inject a small amount of dye into the joint. This is known as an MRI Arthrogram and would be at an additional cost - please see our rates for more information or click HERE.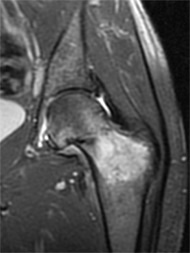 MRI of the hip showing osteonecrosis