Return to Exam List
Follow us on Facebook, Twitter and Instagram.






| MRI Arthrogram of one joint | add $300 |
| --- | --- |
In some situations, your doctor will request an MRI of one of your joints as an MRI Arthrogram. This is indicated when your doctor suspects there may be damage to the structures within the joint space instead of the muscles and ligaments surrounding the joint. Our radiologist will also review these requests to insure that the most appropriate exam is being done.
An MRI Arthrogram requires the injection of an MRI contrast agent (dye) into the joint. This is done in an X-Ray department. A Radiologist will use X-rays or Ultrasound to guide them in inserting a very fine needle into the joint capsule and injecting a small amount of dye. The skin is frozen first, so there is very little discomfort. Your joint may feel stiff and swollen for a short while, though. This doesn't last long, as the extra fluid is absorbed by the body within a few hours. Since the function of your joint may be impaired during this time, you are asked not to drive for the rest of the day. If you are coming from some distance, please have someone drive for you.
Since there is a possibility of impaired function of your joint for a period of time, we recommend that only one joint be examined per day. If you require an MRI Arthrogram of more than one joint we would be pleased to book them on separate days for you.
After the dye has been injected, you will have your MRI exam. The dye lets us see the structures within the joint itself and helps detect small tears in cartilage and ligaments. The X-Ray procedure and MRI exam take approximately 30 minutes each.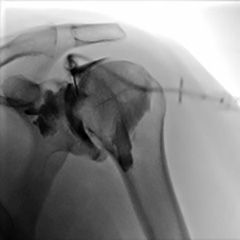 (left) X-Ray taken while the dye is being injected into the shoulder joint. (right) MRI of the shoulder joint showing damage to the cartilage lining the joint (viewed from the top).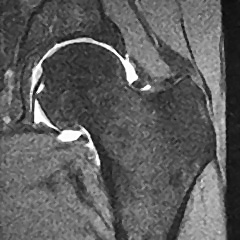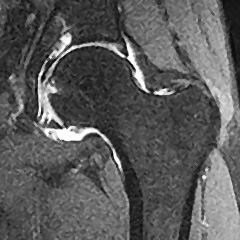 (left) MRI Arthrogram of the hip, showing normal anatomy. (right) Hip with severe rhumatoid arthritis demonstrated using MRI Arthrogram.