Return to Exam List
Follow us on Facebook, Twitter and Instagram.






| MRI of the Sacroiliac Joints (SI Joints) / Sacrum | $925 |
| --- | --- |
While most MRI exams of the SI joints and Sacrum do not require contrast, there are some indications where contrast would be beneficial. In these cases, an additional $300 will be charged.
The sacroiliac joints are the points where the load is transfered between your spine and pelvis. Injuries or mal-alignment of these joints can cause severe pain and restrict your mobility. MRI is able to demonstrate inflammation, damage to the bones, arthritis or other lesions in this area. An exam of the SI joints also includes a full assessment of the sacrum, including the nerves that travel through this region. A typical MRI exam of the SI joints and sacrum will take 20-30 minutes.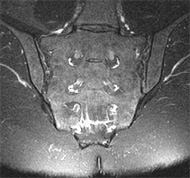 SI Joints